What is Piezo inkjet technology ?
Piezo ceramics which is one of piezoelectric materials, expands and contracts when voltage applied. By utilizing this phenomenon, to mechanically displace a cavity filled with liquid, then making pressure wave in the cavity, and finally eject liquid droplet through the tiny nozzles. It is not required to keep adding pressure, as solenoid bulb requires. The liquid would be automatically supplied by capillary phenomenon in meniscus part formulated in the the edge of the nozzle. Therefore, it can realize ejection and supply of liquid, with very simple system. Bubble jet or thermal jet system has totally different principal from that of piezo system. By heating the surface of the heater in the cavity instantaneously up to 300 C, and bubbles formulated on the surface of the heater, this eventually make liquid ejection. Actually this system is not widely applied in the market, except printing application.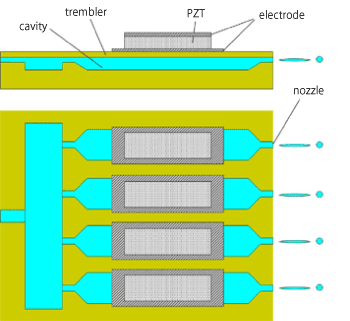 The characteristic of Piezo inkjet technology
1. It can form droplet, on demand timing, on demand numbers, based on digital data
2. On stable ejecting mode, very few tolerance between droplet size, within 1%
3. Droplet fries in the air, and touch to material surface without direct contact
4. It can generate 2K to 50 K droplets/nozzle/minute
Benefits of Piezo system
Pros
1. long life ; normally more then 10 bil. shots/nozzle
2. variety of liquid can be handled
3. A single head can generate various volume of liquid droplet
Cons
1.Difficult to eject high viscosity liquid
2.Requires know-hows for practical application
3.Difficulty in observation and measurement
Don't worry.

Microjet can provide you with solution, regarding above items.
Company profile
MICROJET Corporation

■ Head Office
79-2 Daimon5ban-cho, Shiojiri-shi,
Nagano 399-0732 Japan

■ Tokyo Office
Ozaki Bldg. 2F,3-11-17 Minamicho,
Kokubunji-shi,Tokyo,185-0021 JAPAN

Tel 81-42-401-2700
Contact form