High precision trace amount dispensing device


NanoJet series
Product information
Cutting edge inkjet liquid handler which sucks various kind of trace amount test solutions, and realizes spotting and dispensing with Pico-Nano liter level. Equipped with newly developed inkjet head specially designed for Bio-technology. This high performance head can eject high surface tension water, or liquid includes cells, with extremely high precise positioning. Thanks to its ultra-small size and low cost, user can arrange multi number of heads, depend on kinds of liquid or purposes. The brand new models which can make stable spotting and dispensing liquid in the well , with quite low dead volume.
Features
Spotting and dispensing on demand by sucking regents and samples
Mountable own-developed Piezo inkjet head: up to 12 units
By head rolling mechanism, user can spot onto the matrix on demand
Possible to set the order and number of times for sucking, dispensing and cleaning on demand
Customization on mounted head units number, types and number of wells
Applications
High throughput screening
PCR reagent dispensing
MALDI spotting
Assay beads dispensing
Protein crystallization
Cell dispensing
Spec.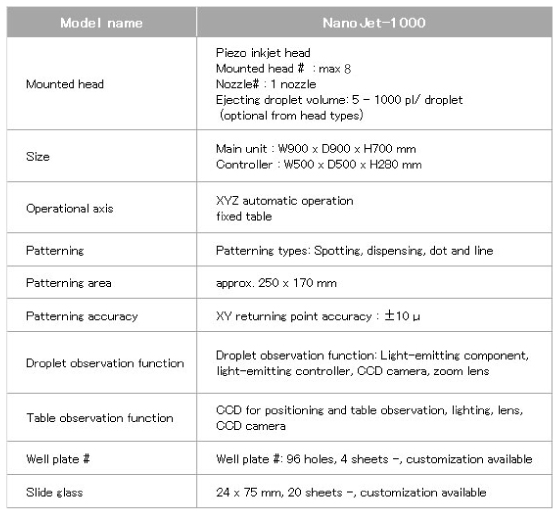 ※Product spec. can be modified without notice. Please contact us for details.
Company profile
MICROJET Corporation

■ Head Office
79-2 Daimon5ban-cho, Shiojiri-shi,
Nagano 399-0732 Japan

■ Tokyo Office
Ozaki Bldg. 2F,3-11-17 Minamicho,
Kokubunji-shi,Tokyo,185-0021 JAPAN

Tel 81-42-401-2700
Contact form