Most-advanced Inkjet research is realized by a desktop-size equipment.
Desktop Inkjet drawing equipment LabJet series
Product information
LabJet series mounts high-spec single nozzle head which can dispense purified water and high-viscosity fluids as well as various fluid materials for electronic devices and bio, and realizes highly-accurate pattern-drawing, spotting and dispensing. The configuration of the equipment is simple and easy to handle. Also, newly-developed IntelliJet function, which automatically optimizes complicated waveform adjustment, and the new disposable PipeJet head can be mounted as options. This all-in-one model can develop fluid materials as well as to prototype various electronic devices and biochips.
Features
Production of high-resolution device by dispensing ultralow volume in picoliter through nanoliter and highly-accurate alignment
Possible to apply fluids with high viscosity and high surface tension as well as particle turbid solution that are hard to dispense by typical heads
Possible to mount Glass Jet head with high fluid proof and disposable Pipe Jet head simultaneously
Triple roles in one device: dispensing, spotting and patterning
Observation by enlarging drawing condition and drawing objects on working place
Monitoring of droplet dispensing condition by droplet observation camera
Applications
Dispensing and spotting of cells, protein, anti-body, DNA, enzyme and reagent
Production of various biochips and biosensors
Trial production of various electronic devices
Circuit patterning with nanometal ink
Liquid injection into microwells, μ-TAS, fluidic devices and micro holes
Development and evaluation of inkjet fluid materials
Spec.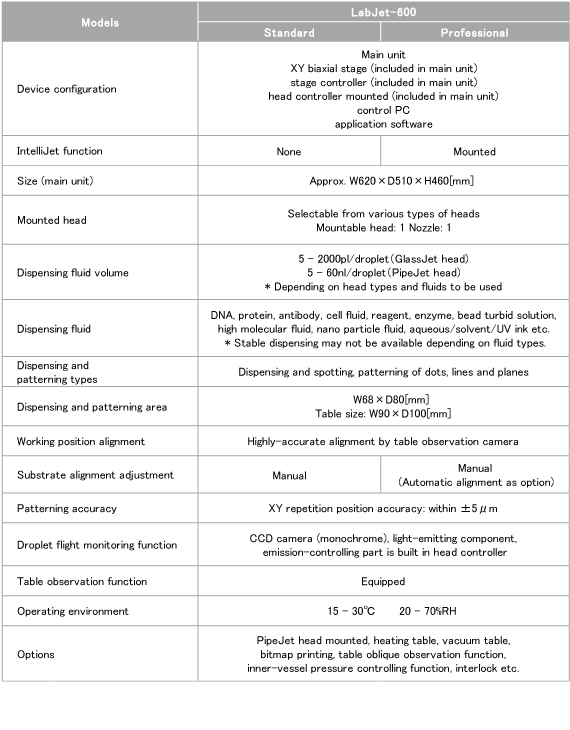 ※Product spec. can be modified without notice. Please contact us for details.

Company profile
MICROJET Corporation

■ Head Office
79-2 Daimon5ban-cho, Shiojiri-shi,
Nagano 399-0732 Japan

■ Tokyo Office
Ozaki Bldg. 2F,3-11-17 Minamicho,
Kokubunji-shi,Tokyo,185-0021 JAPAN

Tel 81-42-401-2700
Contact form