Piezo inkjet high precision dispensing device


LabJet-Bio series
Product information
This inkjet device can suck a tiny amount of liquid and dispense or pattern on demand. Possible to handle various kind of liquid, with reservoir equipped up to 16 units. The model that supply's functional liquid material from reservoir, is also available.
Features
Automatically sucking tiny amount of liquid, and dispensing and patterning
  (minim. Required volume : 0.2ml)
Multiple liquid handling by single head, with Automatic cleaning system
Dispensed droplets monitoring function
Work alignment function, table observation function
Own developed piezo head which can handle high surface tension or high viscosity liquid
Applications
Dispensing or patterning of protein, DNA, anti-body, enzyme, cells, reagents
Production of biochip and biosensor
Circuit forming with nano- metal ink
Trial manufacturing of electronic devices etc.
Spec.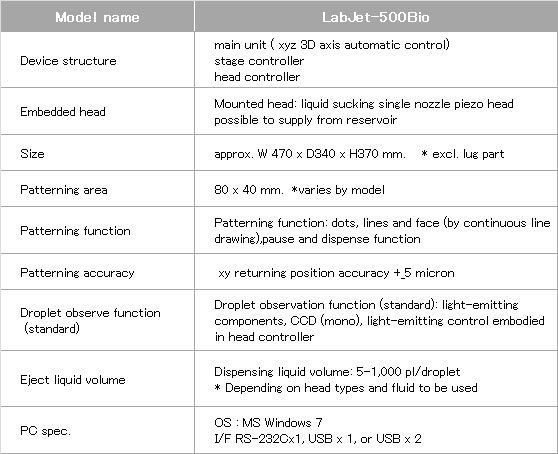 ※Product spec. can be modified without notice. Please contact us for details.
※There's Labjet-500Bio/1000Bio/2000Bio in the lineups. Please contact us for details.
Company profile
MICROJET Corporation

■ Head Office
79-2 Daimon5ban-cho, Shiojiri-shi,
Nagano 399-0732 Japan

■ Tokyo Office
Ozaki Bldg. 2F,3-11-17 Minamicho,
Kokubunji-shi,Tokyo,185-0021 JAPAN

Tel 81-42-401-2700
Contact form