Bio printing device


BioPrinter Series
Product information
Inkjet technology in Bio area, most of the cases it means Solenoid bulb type nano liter liquid management system. This product is equipped with piezo inkjet head, and it can realize Pico liter order liquid management, with high speed, and high accuracy. We have single nozzle and multi-nozzle types in Piezo inkjet head lineups, and you can choose from the below options.
Head to eject high surface tension liquid, such as pure water, which was difficult to realize before
Head to eject high viscosity liquid without heating
Head to eject acid and high solubility liquid
Head with over 100 nozzles, suitable for face applying
Head to suck trace amount of liquid with dozens of microliter level
Features
Equipped with the head which is suitable for biomaterials, or electronic materials respectively
Head for high viscosity liquid, sucking trace amount of liquid and high surface tension liquid
Mountable both multi nozzle head and single nozzle head simultaneously
Mountable up to 5 inkjet head units
Customization of device depending on the purpose of experiment
Applications
Cell patterning
Trial production of DNA and protein chip
Spotting of anti-body and enzyme
Trial production of biosensors
Patterning of nanometal ink
Spec.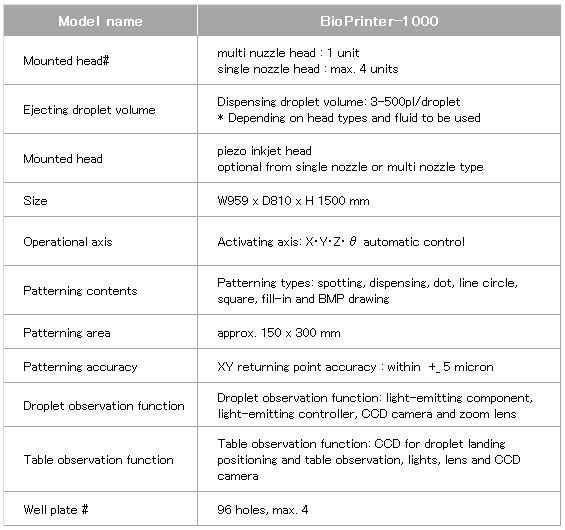 ※Product spec. can be modified without notice. Please contact us for details.
Company profile
MICROJET Corporation

■ Head Office
79-2 Daimon5ban-cho, Shiojiri-shi,
Nagano 399-0732 Japan

■ Tokyo Office
Ozaki Bldg. 2F,3-11-17 Minamicho,
Kokubunji-shi,Tokyo,185-0021 JAPAN

Tel 81-42-401-2700
Contact form